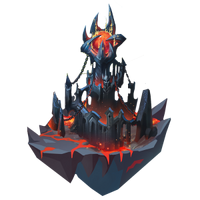 Dark tower basics
Edit
Unlocks at League 20  Each day, you can attempt 1 Dark Tower Run by spending

Gold. This cost increases depending on the maximum League you have reached. You can buy additional attempts per day using
Gems. Each attempt cost more
Gems.
A Dark Tower Run ends when you get 7 wins (5 for Android users), or if you get 3 losses. Each win awards

Dark Coins. The more battles you win, the more

Dark Coins you win per battle. At the end of the Run, you will also receive chests based on the total wins.

Dark Coins can be spent in the Dark Shop to buy

Gold,

Gold Dust,

Elixir   or

Common/

Rare/
Epic cards.
Dark Tower battles do not use Squads, so your Squad doesn't matter. Instead, battles use slightly random cards from your Collection, vs cards from the opponent's Collection.
Each Turn, you will be given a set of 4 cards. You then to choose 1 card to play from the 4 card options. On the next turn, you will be shown an entirely new set of 4 cards.
Here are some important facts about Dark Tower:
Possible Card Sets
Edit
The cards you can play every turn are random between 3 options (A, B or C in the tables below).
If you dont have any

Legendary Cards:
If you have any

Legendary Card:
Reward Chests
Edit

When you finish your Dark Tower you will be rewarded with

Dark Coins and chests. The amount and quality of chests will depend on your total number of victories, as showed in the following table:
Deranking
Edit
As told before, your opponents will depend mainly on your current League, so its very usual to derank in order to have easier rivals in the Dark Tower.
To do so, you have to lose some battles on purpose, so you will go some leagues down, and you will have high chances to achieve the 7 wins (5 for Android users) and the best reward.
Its said that deranking 3 or 4 leagues should be enough to have a comfortable 7 wins run...but obviously it will depend on your rivals and how consistent your Collection is.